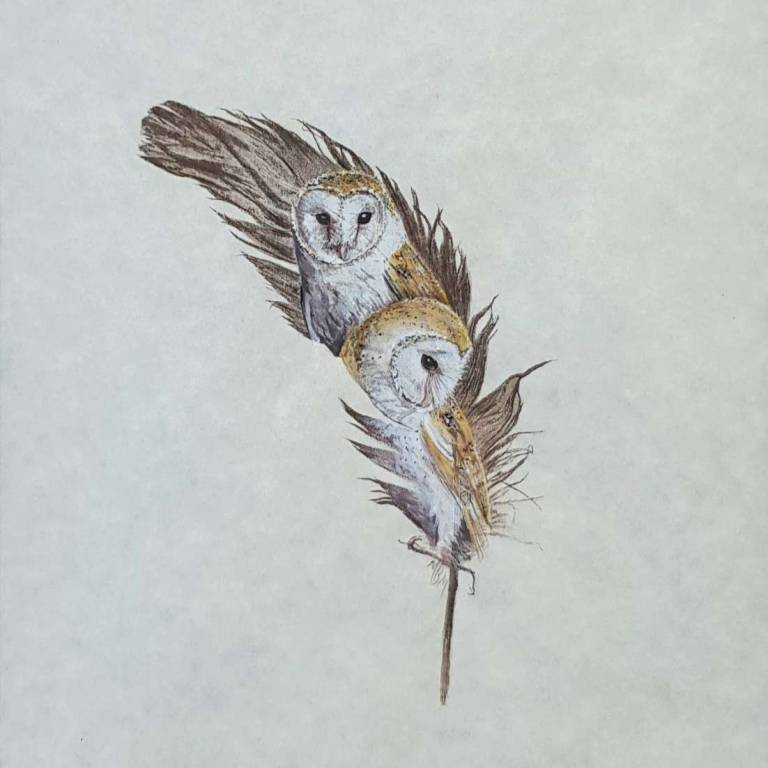 Mandi Baykaa-Murray – The Feather Lady
Mandi has loved drawing & painting for as long as she can remember. It has taken her whole lifetime to finally give her creativity purpose and be proud to do what she loves and give it a title – 'ARTIST.'
As a child, she was surrounded by animals and wildlife – back then she took them all for granted. Now these subjects are the heart of what inspires her to paint, especially birds of prey, these creatures really make her tick.
Mandi studied Printmaking as a 'mature student' in her twenties. Printmaking enabled her to discover a working process that offered unlimited options to experiment where the subject didn't matter – everything she did back then was Abstract. After college, Mandi specialised in photography. She realises now, that was being an artist too – just making beautiful images using a camera rather than paintbrushes or a printing press!
In 2009 Mandi met a falconer and his birds of prey. She was compelled to paint them and she hasn't looked back. She didn't have a clue how to paint – it just happened. Spending time with the birds of prey has inspired so much of Mandi's artwork – in particular, her greatest achievement to date, 'Feathered Friend'. This piece was selected as a finalist in the David Shepherd Wildlife Artist of The Year 2014 where it sold during the Exhibition in The Mall Galleries, London. This success gave Mandi the recognition she had worked so hard to achieve and a huge confidence boost to keep doing what she was doing!
Daily walks with her little dog in the local countryside allow Mandi to reconnect with nature. They allow valuable headspace and thinking time for ideas to evolve, and provide inspiration for potential paintings.