Regular price
Sale price
$542.00
Unit price
per
Sale
Sold out
UK Shipping
£6 on orders up to £99.99
Free shipping on orders above £100
Share
Title: Eclipse
Artist: Val Jones
Size: Framed size 56cm x 68cm (Image 35cm x 45cm)
Type: Original
Subject: Abstract
Medium: Printmaking
Mounted: Yes
Framed: Yes - White Painted Frame
Monotype    (NOTE: 3RD IMAGE FOR FRAME AND MOUNT STYLE)
View full details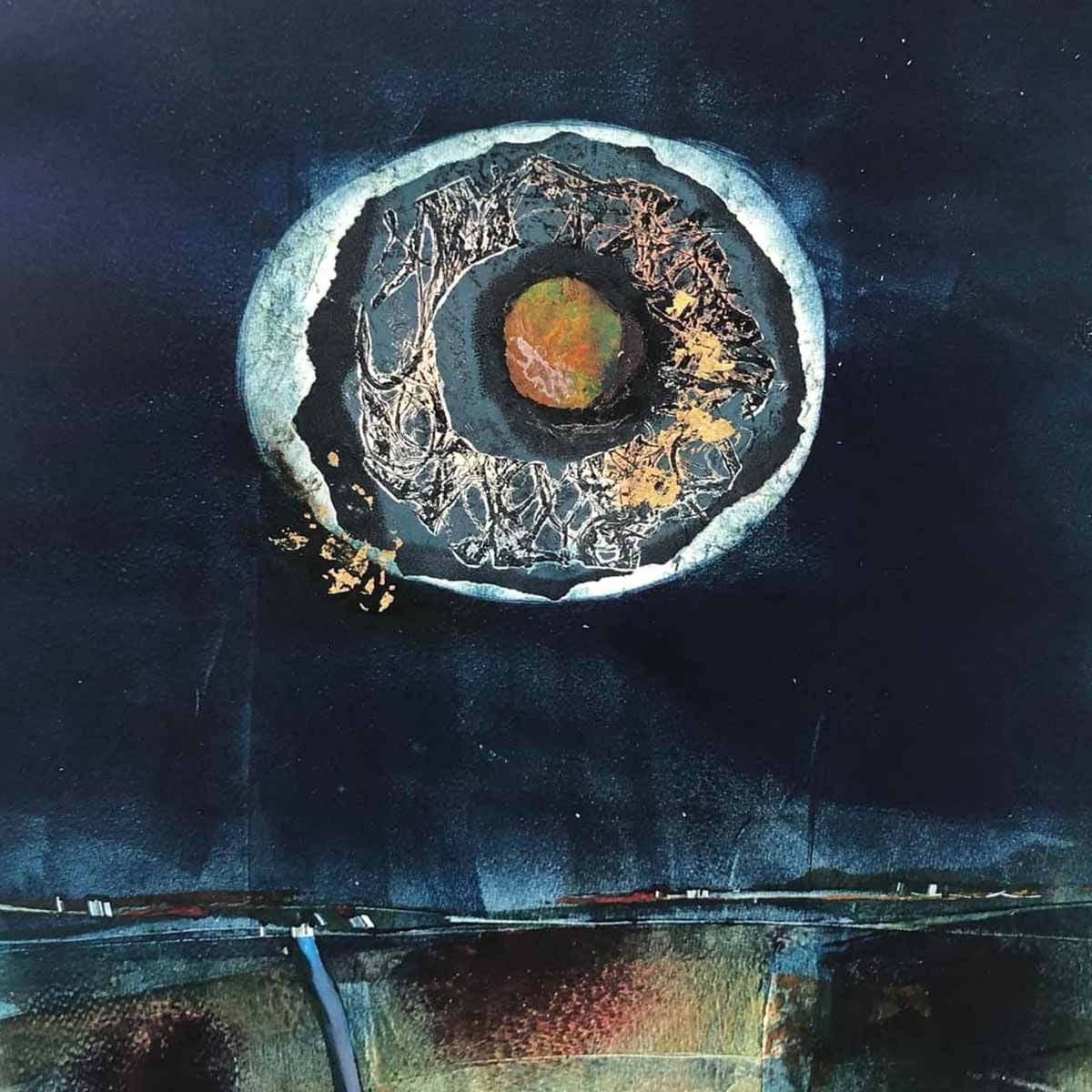 My work references places and people from my lifetime's travel around UK and the world, and in particular from my present environment in Exeter after living for 27 years in Dartington, Totnes.

Wildness and movement, colour and vibrancy are expressed in paintings and prints inspired by the regional landscape. Features are glimpsed, giving scale and structure, but, increasingly these are omitted as my responses become more abstract.

A childhood in the West Midlands rich in people did not compensate for the flat soulless urban landscape, which I found uninspiring, and childhood fantasies created mountains, seas, beaches and skies from cloud formations of the surrounding area.

College in Leeds was followed by several years teaching of art before I gained my MA at Birmingham school of art, now part of City university where I subsequently taught for 6 years before moving to Devon. I was a member of Dartington printmakers and of the 21 group of artists. I presently work in my studio at Maketank, an arts organisation in the centre of Exeter.

My interest in printmaking led me to experiment with monotypes, the most painterly form of printmaking. A few years ago a painting course with the landscape painter David Tress opened my eyes to a more expressive form of printmaking.

This also created an enormous transition with the move from oil painting and printmaking to working with acrylics. The properties of acrylic paint had previously deterred me. I preferred the flexibility of working in oils but after a week in Pembrokeshire working from plein air sketches and working in acrylics I moved to a freer, more expressive approach which then influenced my printmaking.